Buy Tickets to Batman in the Park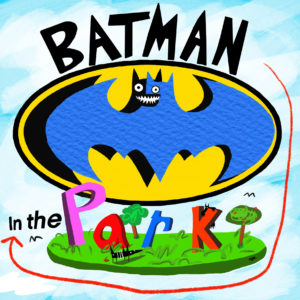 With shows postponed in 2020 due to the pandemic, Fringe shows are making a comeback in what is now a very different environment with theatregoers wearing costumes and masks on a regular basis.
Tickets on sale for Batman in the Park starting August 4th on the Victoria Fringe Festival website. Note we are not the Batman show in August. Show dates are in September only as follows:
Wed Sep 15 – 6:00pm
Thu Sep 16 – 8:30pm
Fri Sep 17 – 6:00pm
Wed Sep 22 – 8:30pm
Thu Sep 23 – 6:00pm *American Sign Language interpretation available
https://intrepidtheatre.com/festivals/fringe-festival/

Please consider donating to our show!
Shows as awesome as this don't happen without the hard work of our talented group of artists and crew. The donation link below has 3 options for you. Be a Friendly donor ($25), an Awesome donor ($55) or a Superhero donor ($100)!

Show Synopsis
Broke, down on his luck with his acting career in the toilet, Batman books Hamlet in Shakespeare in the Park. Like Hamlet, Batman faces his greatest enemy, his own fear – and Bane, determined to unseat Batman's role. Will he survive the role? Stay tuned…

Company Bio
Batman in the Park is produced by VADARTS in coproduction with Theatre Carpe Diem and features two graduates from our full-time 2021 acting program: Mason Hollis and Elizabeth Colangelo. The cast and crew is rounded out with a superhero team: Kara Flanagan (co-director/playwright), John Manson (co-director), Kevin Eastman (actor), Haylee Macpherson (actor), Anton Brakhage (Stage Manager), Lyle Schultz (graphics artist) and long-time friend of VADARTS, Andrew Flanagan (Producer). Batman in the Park recognizes the superhero in all of us as we work together to pursue each actor's acting potential: epitomized by Hamlet – the be all of all acting roles. Or is it? Could it be, if we flew off to some undiscovered country, such a role as Hamlet be or not be the role to end all acting roles? Could this country be known? Be batty? Or be Batman in the Park?
Check out our digital program with our wonderful cast and crew!